MAIN STAGE
(subject to change)
FRIDAY Sept 1, 2023
12:00-12:45  Authentic Unlimited
1:00-1:45      Savoy Family Cajun Band
2:00-2:45      Po' Ramblin' Boys
3:00-3:45      Riders In The Sky
4:00-4:45      Danny Paisley & the Southern Grass
4:45-5:30      Dinner Break
5:30-6:15      Authentic Unlimited
6:25-7:10      Savoy Family Cajun Band
7:20-8:05      Po' Ramblin' Boys
8:15-9:00      Riders In The Sky
9:15-10:45    Dailey & Vincent
SATURDAY Sept 2, 2023
12:00-12:45    A.J. Lee & Blue Summit
1:00-1:45        Danny Paisley & the Southern Grass
2:00-2:45        Lonesome Ace Stringband
3:00-3:45        Lonesome River Band
4:00-4:45        Rhonda Vincent
4:45-5:15        Dinner Break
5:15-6:00        A.J. Lee & Blue Summit
6:10-6:55       Danny Paisley & the Southern Grass
7:05-7:50       Lonesome Ace Stringband
8:00-8:45       Lonesome River Band
8:55-9:40       Rhonda Vincent
9:55-11:25     Dan Tyminski
SUNDAY Sept 3, 2023
12:00-12:30  Kid's Academy
12:45-1:35    Rock Hearts Bluegrass
1:45-2:35      Thompsonia
2:45-3:35      Full Cord Bluegrass
3:45-4:35      Feinberg Brothers
4:45-6:00      Larry Sparks
Children's Stage
Jam Central Station!
We know that there are a lot of novice pickers who attend bluegrass festivals, and Delaware Valley is no exception. It's often hard to find other novice pickers on the vast campground. So, because an astute Wernick Method student requested, here it is: Jam Central Station, the pickin' place for all novice pickers.
Jam Class
Wernick Method Jam Class returns again!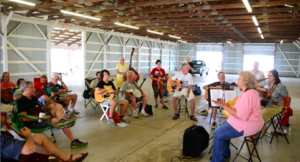 Heidi Olsen will host a Wernick Method Bluegrass Jamming Class each day of the festival.
Friday, Saturday and Sunday
9am – 11am
Price $70 in advance, $75 at the festival. If you are not able to attend all three sessions, you may register for single classes at $30 each. This is a separate fee from the festival admission and you must purchase a festival ticket in order to participate in the Jam Class. More information is available from the Wernick Method website.
There will be lots of music happening at this great festival, and once again Heidi Olsen will be teaching a six hour Wernick Method Jam Class. This class is specifically geared to folks who love bluegrass music, play an instrument, but really aren't sure how to start getting involved in the whole jamming scene. If you can comfortably change between G, C, D and A then you are ready to take this class.
Use this weekend to kickstart your own jamming prowess. It's intimidating to walk up on a jam, hear someone say, "Do you know Ragtime Annie?" Someone else replies, "No, but kick it off!" Then they play a song that sounds terrific, but some of the people playing along have never even played the song before. How do they do that? This class will give you insights on how the secret world of jamming works, and will teach you ways to navigate it confidently. You will learn what to expect in a jam session, and then will spend time practicing all of those techniques.
Heidi, who has 15+ years of experience leading jam classes and is a charter Wernick Method teacher, will lead the class in gentle tempos, and give hints on how to follow along with unfamiliar songs. Mistakes are expected! You will learn the ground rules and etiquette of typical jams. You'll learn how to lead songs, and play new songs that you have never heard before.
The class will run for six hours, two hours each morning on Friday, Saturday and Sunday. During that time you will learn how to find melodies, fake solos and sing harmony. You will learn how to properly play backup. We are a music book, tablature and musical notation free zone. The focus will be on ear skills and we will emphasize listening and reacting to the music that's being played, because that's how things happen in "real" bluegrass jams.
This is instruction that is understanding, low-pressure and time tested. This class is for pickers who are ready to take the next step, and want to play bluegrass music with other people and hone those skills.
It's hard to take that first step, and put your self-esteem at risk by coming to a class like this. But it's less fun to keep on practicing at home and not seeing any real progress in your playing. Take the chance, and sign up now for this class. You'll get a discount, and you'll also have committed yourself by spending money that you don't want to lose when you decide at the last minute you really shouldn't attend and talk yourself out of it! (Heidi has done that!)
Please note that a festival ticket is required to attend this class!
Clogging Workshops
FiddleKicks will be hosting clogging workshops on both Friday and Saturday at 3 pm